Living large in a cottage kitchen might sound like a paradox, but if you have walked unnecessary steps from the kitchen sink to the refrigerator to the stove, how great to live in a more efficient, customized space where all your cooking needs are just steps or maybe even turns away! Think of all the upgrades possible in a smaller space that might be out of the budget with a larger footprint. Cottage style is as much an attitude as a design. There is plenty of room for your personality and creating a space that will be the gathering spot in your home.
Note the soft palette of color allowing the white of the walls and cabinets to be the perfect backdrop for the colorful pops found in the plates, bowls, and other accessories.
Clean lines, open shelving, and lots of neutrals help to keep this kitchen feeling large and uncluttered.
Bead-board definitely adds to the cottage attitude and I love the contrasting color of lower cabinets in white and a distressed aqua.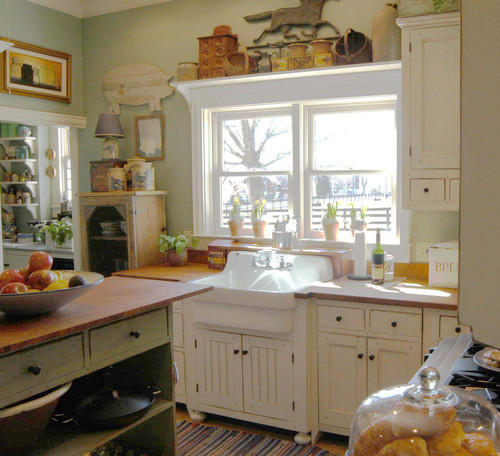 One characteristic of cottage style is often the furniture like quality of the cabinets. It is reminiscent of past years where lack of work-space forced homeowners to place furniture items in the kitchen to give the room more function.
Hardwood floors are often seen in cottage style kitchens and add contrast to the lighter walls and cabinets. They warm up the space and give the feet a softer surface that hard tile.
This beautiful space exhibits great cottage attitude! White abounds but the green furniture-like island keeps the space from appearing sterile. Overhead lighting gives a variety using  pendants, task, perimeter lights, and lots of windows unadorned allowing maximum light to stream in. The surface work-space is solid, natural, and durable, without glossy granite covering every spot.
The kitchen is the perfect place in a home to show off the cottage attitude! Warmth mixed with casual, clean, and unpretentious finishes make this a very welcoming place to work and relax!
Laurie Kriegel
JB Goodwin Realtors
laurie@austinspockets.com
512-630-3648